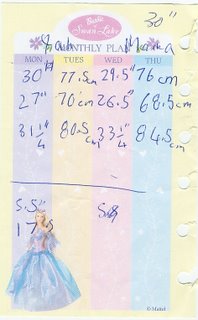 good morning people,

can you all guess what i was doing with puteri this morning, before she get ready for school. hehe... so shy lor to tell you all. alright, to tell you the truth both of us decided to compare our vital-statistics ;)

if you are unable to read puteri's writing, here's the results-

puteri ~ 30-27-31 1/4

me ~ 29.5-26.5-33 1/4

this shows that puteri really gonna be bigger than me lol. btw we also decided to do this monthly. i will surely up-date it here too.

it was raining during last two nights. so no pics of the panjut contest from me. we heard that it was actually held for two nights. but since last night was raining until so late, i don't think people will light the panjut. pity megat. the night before was raining too but they started after the rain stopped approximately 9pm. unfortunately megat slept early, so we didn't go. maybe next time i guess. anyhow, i will surely bring kidz to the pesta "ayor" (read: air) / water festival this saturday. this is gonna be their first time!


before i go off, here's a self-taken pic of me, taken last night. can you spot the butterfly on my pillow case? cute kan :D