howdie!!! people... fyi i am blogging from kuala lumpur. it's hard to get blogging here unless from places with wifi facilities, as my sis' new place in denai alam got no internet access wargghhh!!!... now you people know actually of how so many things for me to blog, but yet there are so little time for me to blog :(

whatever it is, let me spread this out first—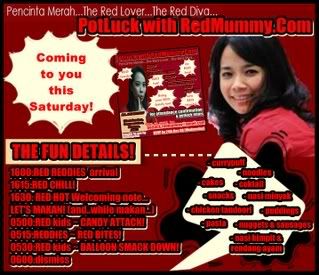 when? 27 december 2008 (saturday), at 4—6pm

where? taman putra perdana presint 1, putrajaya

fees? no fees, but all attendees are required to bring a dish of food to be shared among the group.
and this is the map to the venue—
so for those of you people who are interested to join the above event, do send in your details i.e. name, blog url, nickname (if you are not redmummy' silent readers), type of food that you gonna bring, number of pax coming and your mobile number to
potluck.redmummy@gmail.com
; or better still, click on any of the above images for more details.

i have submitted my details myself although i am not sure yet. the thing is i can come insya allah… but NO cupcakes ler… wargghhh!!!!!… cuz my sis' new place in denai alam got no oven and what's not for baking yet huhuu... btw that's the only thing that i'm good at, at the moment hehee… but anyhow i will try my very best to fit this in to my schedule this saturday, insya allah...