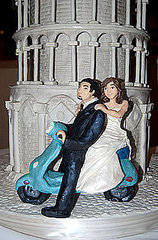 click on the above image to read more about the cake
one of my new favourite shows- tlc' '
cake boss
' starring owner buddy valastro and his gang. i am not sure about other places, but here in malaysia you can check it out wednesdays 7pm on
astro
's channel 707. repeat episodes on wednesdays at 5am and 1pm, thursdays 1am, and sundays (4am, noon and 6pm) or right
here
.
buddy and his team are absolutely amazing- if you are right-brained like me and really appreciate the more 'creative' reality shows, you will love this one.
my personal favourite cakes-
the fire scene
and the leaning tower of pisa cake. what are your favourites? if you had the opportunity, what would you ask him to make for you (or someone you love)?
*pic credit to
ciaobella
of
little ditties group